The DTS Invasion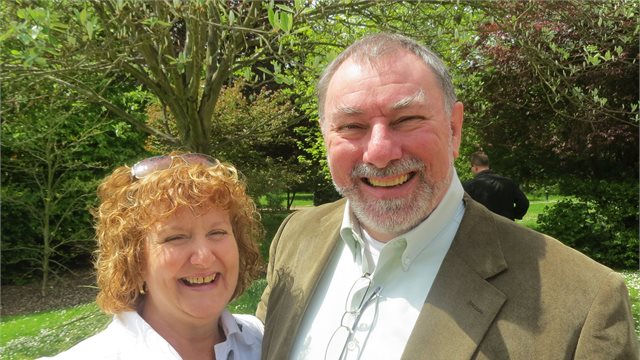 Terry Boyle (ThM 99, PhD 10)
My wife Rosie and I were both born in England, and, as the bumper sticker says, "we got to Texas as fast as we could." But for the past six years we have been back in the UK, where I serve as the Regional Pastor for Insight for Living, Chuck Swindoll's Bible teaching ministry.
Insight for Living UK has its office in Surrey, southwest of London, and from there we bring Chuck's messages into homes all across the UK and Europe. I serve as announcer and host for IFL's weekday broadcasts, and I also produce and teach our UK home-grown weekend programme.
We offer pastoral care for our listeners, and I frequently visit their churches up and down the region to preach and teach the truths of the Bible. In fact it works out that on average I'm in someone else's pulpit around three Sundays a month! Rosie usually travels with me, and we've been as far north as the Isle of Skye and as far south as Interlaken and Prague. It's such a privilege to be able to meet so many new friends, and I find there's always a warm welcome for straightforward Bible exposition, no matter what denomination of church extends the invitation.
I can remember saying to Rosie in the early 90s, "I'll just try one course at DTS if they let me in. It might not be what I'm looking for." Well, they let me in, and that one course was Bible Study Methods with Prof Hendricks. Who knew the Bible could make sense? Once Prof had finished with me, I realised I couldn't get off that train. And what a ride it was.
I worked as a fellow at the Leadership Center for quite some time, so I was heavily invested in the Spiritual Formation curriculum for several years. I still use the elements of that framework today for developing leadership traits in the men and women who will carry the church forward through these uncertain times.
DTS taught me how to open up the Scriptures with confidence, but more importantly it showed me how to let the Scriptures point people to Christ. As I told a local assembly just as recently as yesterday evening, the Bible can't save you. But it will introduce you to the only person who can.