God Brings Physicians to Liberia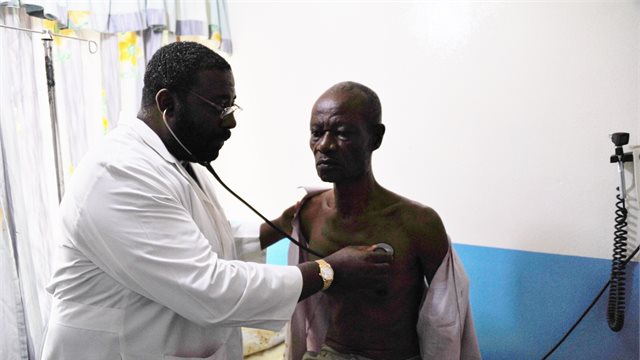 Frank Glover Jr. (MA[BS] 11)
"Why is it that God doesn't love black people?" This question was posed to me by an eight-year-old Liberian schoolgirl at the Carver Mission school twenty-five years ago. I was, then, a medical student at Johns Hopkins doing a two-month rotation at SIM's Christian mission hospital, ELWA, at the time. I answered that God loves all people regardless of color. Her follow-up question, however, was profound. "Then why don't we have anything?" I left Liberia that spring determined that I would work to show God's love to my Liberian people. I went on to complete a doctorate in international health (health systems) at the Johns Hopkins School of Hygiene and Public Health after receiving my MD degree. I earned a Master's at the Dallas Theological Seminary in biblical studies as further spiritual training for the African mission field.
I really enjoyed my training at the Atlanta extension of the Dallas Theological Seminary. I completed the degree part-time as I continued to work as a full-time urologist. These years were essential in allowing me to systematically study the entire Bible under the tutelage of amazingly gifted and passionate professors. I treasure the relationships I formed with fellow students from all walks of life who were answering the call of God to grow deeper in their devotion and commitment to our Lord.
Two years ago, I was praying to God for direction as for where He would have me to serve. My wife and I visited Liberia, and it was clear to me that God had spoken. Liberia was recovering from a brutal fifteen-year civil war. All the hospitals had been burned and looted, and the doctors had fled for their lives. A ceasefire was enforced by eight thousand United Nations peacekeepers who arrived eight-years ago. Africa saw the election of its first female president on its continent. President Ellen Johnson Sirleaf has been working to rebuild Liberia's infrastructure. She personally asked me to engage the National Medical Association, which represents the forty thousand African American physicians in the United States. I had been the recipient of this organization's National Physician of the Year Award last year. I, therefore, mobilized a group of doctors including the organization's president, Dr. Rahn Bailey, and led several delegations to Liberia to assist in supporting the health care infrastructure by training local doctors and attending to the needs of the population. I began taking groups of doctors and nurses to help at the ELWA mission hospital and the African Methodist Episcopal medical clinic. I began helping the Liberians to develop post-graduate medical education programs. I have been working along with the World Bank, The US State Department, various non-governmental organizations, as well as academic institutions here in the United States. Dr. Lewis Sullivan, former US Health and Human Services Secretary, has been travelling with me to Africa and various cities in the United States to raise support for the development of a medical school in Liberia.
The Sullivan Alliance has formed a consortium of the Historically Black Colleges and Universities, which include Morehouse, Meharry, Drew and Howard. The global health programs of Johns Hopkins, Vanderbilt, University of Florida, Baylor, and Boston's Children's Hospital are also involved in training doctors in the areas of pediatrics, surgery, obstetrics and gynecology, internal medicine, and family practice.
Currently, Samaritan's Purse is constructing a new mission hospital on SIM's campus, which will serve as a teaching hospital for the West Africa region. These Christian doctors will provide services throughout the region. I am working with the National Medical Association and the West African College of Physicians and Surgeons to assist in the training of these doctors. I recently led a delegation of fifty doctors of various specialties from the National Medical Association to work in hospitals throughout Liberia.
My wife and I founded SHIELD (Strategic Healthcare Initiative Emphasizing Local Development), which is a not-for-profit organization that has as its goals to 1) build a medical school in Liberia, 2) train resident doctors in various medical and surgical specialties, and 3) provide loan forgiveness for Liberian doctors that have trained in the states who would like to go back and be involved in teaching doctors and serving patients in Liberia.
I am currently spending one-third of my time in Liberia for one simple reason: God loves the Liberian people! They have been made in His image. God has blessed me to obtain the training and resources here in America. I prayed thirty years ago to serve God in my ancestral homeland as a missionary doctor. To whom much is given much is required. I have visited hospitals in most of the counties in Liberia. I feel the pain of their suffering as I work to improve their lives through surgical and medical preventions. I also have opportunity to preach the gospel and take teams of pastors, evangelists, and laypersons with various skills to attend to the physical and spiritual needs of the Liberians. In fact, I have returned to the Dallas Theological Seminary to take Greek and Hebrew language courses as well as many preaching courses to prepare myself spiritually for the task to which God has called me. By serving the poor and caring for the orphans and widows in their distress, we are serving God, the Father, of our Lord and Savior Jesus Christ. To Him be the glory and honor forever. Amen.