Jesse Bradley serving at Sebastopol Christian Church (ThM 99)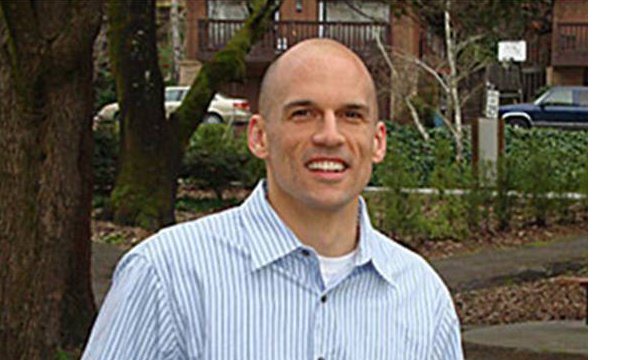 I graduated in the evangelism and discipleship track, but I majored in Howard Hendricks' classes. Ramesh Richard impacted my life through his evangelistic preaching course and I was fortunate to be an apprentice under Larry Moyer. My pastor at Concord Missionary Baptist Church in Dallas, E. K. Bailey, helped me develop what I learned in the classroom. I sincerely enjoyed every professor at DTS. The humility of professors Constable and Fanning helped shape my perspective about ministry. I looked forward to chapel every week, not only to hear Chuck Swindoll, but also to listen to a wide range of speakers who faithfully brought God's Word in their own style.
I didn't grew up going to church or reading the Bible, so I can't begin to say how grateful I am for the foundation God laid in my life through DTS. I came to know the Lord at Dartmouth College through a professor who was criticizing the Bible. But the Word of God is so powerful! I played professional soccer before God surprisingly redirected me into ministry. DTS provided the supportive environment that cultivated my calling. I spent four years living on campus in the dorms, and a favorite part of my DTS experience was the friendships with people from different cultures and nations.
I have been serving as senior pastor at Sebastopol Christian Church for almost five years. God led me from a healthy mega-church to the Bay Area in Northern California because there are so few Christians here. My passion is to lead our church and to spread God's Word and the gospel of Jesus to everyone God allows me to reach. We currently have a radio, television, and internet ministry that by God's grace is touching lives. Our church also has a ministry to homeless people in our community by providing clothes, food, Bibles, and hot showers. I recently wrote a book, Rooted In Grace, and 100% of all profits go to Compassion International, supporting children who are living in poverty. It was at DTS that God made it clear he wanted me to be an evangelist and fanned the flame that everyone needs to be given the opportunity to follow Jesus.
See what else is going on at Sebastopol Christian Church at www.sebchristian.com.