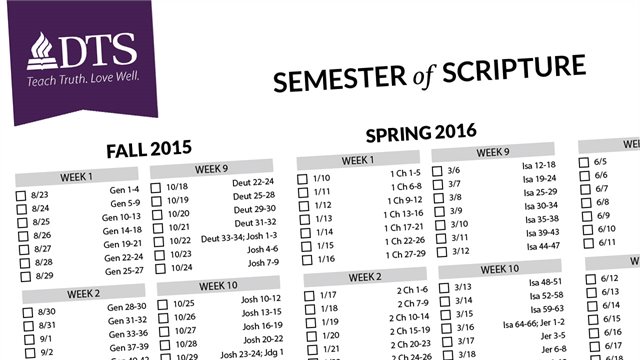 Semester-Based Bible Reading Plan
The curriculum of Dallas Theological Seminary is centered around the study of all 66 books of the Bible. But in addition to studying God's word, we believe it is important for us to regularly bathe our minds in the words of Scripture.
Toward that end, DTS has created a Bible reading plan for grade school students, those in college or seminary, or anyone else who wants to start reading the Bible mid-year. The plan goes through the entire Bible in canonical order in the 42 weeks of a common school year. This allows you to read through the Bible in about 10 minutes a day, with 10 weeks off in between the fall, spring, and summer semesters.
If you follow this plan every year you are in school, you will have read the Scripture several times over during your time in college or seminary. If you'd like to participate, please follow the links below: